Gustav Hamm (Amsterdam 1956) works as an independant Interior Architect (BNI, ECIA, FNSAI). Having worked in the Netherlands for over 16 years, in 2001 he moved his office from Amsterdam to Draguignan (Var, France), not far from cities such as (like is VS) Nice, Cannes, Toulon and Marseille.
After earlier studies at the University for Architecture in Delft, he graduates in 1986 at the "Gerrit Rietveld Academie School of Art" with distinction = cum laude. Consequently, he joins the "BNI", the Dutch organisation of Interior Architects.
Besides refurbishing projects for private Clients, he is asked to work as a freelancer for well known Architect Offices such as Haskoning, for which he participates in the design of the "FNV" building. For "Kees de Kat" he participates in the design of the "Marie Heinekenplein" and (het meubilair van het Douwe Egberts kantoor in Utrecht staat er nog niet bij!!) "Koningin Wilhelminaplein", both in Amsterdam. For Architect "Peter Geusebroek" he refurbishes the loft and studio of the "Cobra" painter "Walasse Ting".
In 1993 Gustav Hamm starts working for Nissan Europe N.V. where he gets the chance to participate in the development of the new Nissan Corporate Identity Program called "Network 2000" with the goal to upgrade approximately 4000 Nissan dealerships throughout Europe, both exterior and interior. As a result Nissan dealerships are easily recognised by their dark-blue fascia above the showroom.
Chrysler Europe SA/NV in Brussels is his next client.
They too want to upgrade the image of their dealerships in Europe and want to use Gustav's knowledge in the Automotive sector.
During all these years, Gustav continues working for Imre Kis Jovak, Jowa, his former mentor at the "Gerrit Rietveld Academie".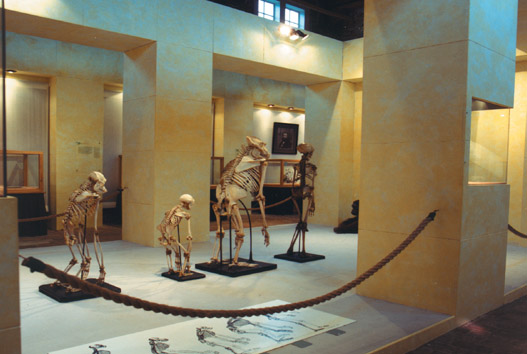 Exposition "Ape-Man, Man-Ape"
Together they do not only refurbish a large number of private houses, but also design many temporary and permanent exhibitions for museums such as the "Tropenmuseum" in Amsterdam and the "Rijksmuseum van Oudheden" in Leiden. Both the "Old National Museum" and "New National Museum" in Saana (Yemen Arab Republic) are renewed by Jowa and Gustav.
Other expositions Gustav designs are "NNM Pakt Uit" and "Ape-Man Man-Ape", both for the "Nationaal Natuurhistorisch Museum" in Leiden. Clients also ask for his knowledge for totally different projects, such as the fashion house "Female & Partners" in the center of Amsterdam. The shop interior now reflects the fashion on display: flashy and different.
In 1999 he starts working for the municipal urbanisation design office of Amsterdam for which he makes drawings of the "Stadshart Lus", the new paving design and renovation of some major streets in the city center. The new public furniture in this design has been created by Gustav.
For "Eurowoningen", a large developer in Rotterdam, Gustav participates in many housing projects for which he makes the drawings needed for the sales brochures. With the high quality of these brochures, the houses are being sold at a great pace.